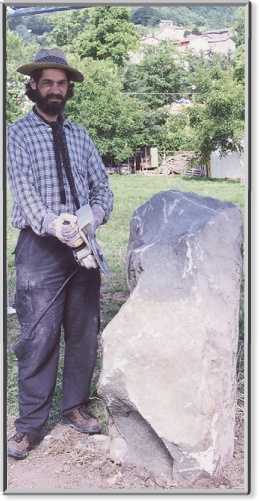 Silvano Soppelsa born in Agordo (BL) March 4 1963 , lived up to ten year-old age in its little origin village Celat of Vallada, located at one thousand meters of altitude along the Biois torrent valley.
Celat of Vallada is a poor village, but rich of authentic flavours like the old bakery with the wood burning stove, the iced water fountains, the fir and larch forest.
In a trip to Falcade he knows the sculptor Augusto Murer and visits the master atelier. Returned home hecreates its first sculpture: a little Saint Francesco
Transferred to live in Padova,he begins very young to work the wood.
During the second half of 80's he begin to apply himself to the sculpture, and participates for the first time in a sculpture exhibition.
Even if he prefers work the wood, he received its first rewards from the reviewers in an official competition for a stone sculpture during the 1993 year.
Since then, very intensive was its presence in sculpture exhibitions, shows, official competitions; its works stay now in private an public collections, as for example:
• TERRICCIOLA DI MORRONA (PISA)
• CAORLE (VENEZIA)
• MONSELICE (PADOVA)
• TEOLO (PADOVA)
• RAMISETO (REGGIO EMILIA)
• LA BRESSE (FRANCE)
• ST PIERRE DE CHARTREUSE (FRANCE)
• COLLE SANTA LUCIA (BELLUNO) - Pro Loco office
• AURONZO DI CADORE (BELLUNO) - Town Hall
• TENCAROLA DI SELVAZZANO (PADOVA).